Concert Venue Grabs Media Attention
The Cynthia Woods Mitchell Pavilion needed to increase event media coverage and ticket sales. Traditional print and radio advertising had proven to be very expensive in past seasons. They knew that publicity could make a real difference.
Four events to be held at the pavilion were scheduled for the new season. Finding new ways to entice the press to write feature stories and calendar listings was always a challenge. Theme imprinted items, capturing the spirit of each event, were hand-delivered along with press releases to media representatives at their respective offices. A seven-hole flag base carrying the six flags of Texas and a custom made center flag announced the "Six Flags Over Texas Musical Festival," while a mug filled with pretzels along with an imprinted felt Alpine hat invited recipients to enjoy the upcoming "German Celebration." Promoting Charlie Chaplin's silent film comedy, "City Lights", was a package that included a film reel canister filled with microwave popcorn and candy, an imprinted top hat and the event program in a film-themed frame. Last, but not least, the "Children's Festival" got off to a flying start when recipients opened a large box with an imprinted kite packaged in colorful shredded paper.
Increased media coverage generated a 48% increase in ticket sales for all four events. Promotional products matched with publicity made a perfect combination.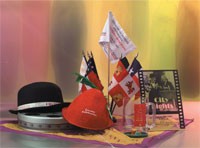 ---